I've had a couple of giveaways end in the past few days so I wanted to post the winners here. Of course I used Random.org to pick a number for me and whoever happened to have the lucky number was the winner. There is still time to enter the other giveaways I have going on so you should go enter them now!

Holly and Hal Moose Pair From Build-a-Bear Workshop
#35 -
RaeLei Designs
on December 8, 2009 7:24 PM said...
I am connected with you through google friends connect
Oral-B Stages Giftpack
#13 -
CJ'SMOMMY*KIMBERLY
on December 10, 2009 12:28 AM said...
button~http://cjsmommykimberly.blogspot.com/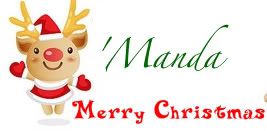 Congratulations to both of you. Thanks for visiting my blog and also for entering the giveaways that I host. I hope you guys enjoy your prizes and will come back to try to win again very soon. Merry Christmas too!