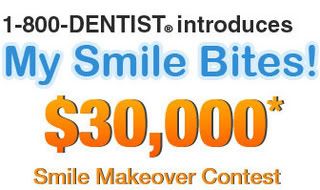 Are you embarrassed to smile? Do you cover your mouth when you talk or laugh because you don't like the way your teeth look?

This is a once-in-a-lifetime opportunity to have a smile that you're proud to show off!

All you have to do is be willing to share your story with us - and America - from start to finish. America will help choose the top contestants and 1-800-DENTIST will select the winner!

I saw this contest and I wanted to blog about it and let you guys know. They are giving away a $30,000 Smile makeover. There are only a few entrants so I think that we have a pretty good chance of wining. I am definitely going to enter as soon as I get a new web cam. I would so, so, so LOVE to win this! It's a great opportunity for anyone that is insecure or unhappy with their smile and their teeth. Whenever I get my entry uploaded I'm going to let you guys know because I'm going to need your votes!